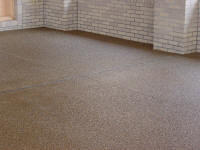 Exposed Aggregate
A nice effect for sidewalks or steps, exposed aggregate doesn't have a normal concrete finish but exposes the stones normally buried for sharp looking concrete site work. This slip and wear resistant concrete will be ideal for your decorative concrete needs.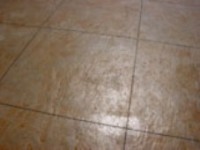 Stamped Concrete
Countless numbers of patterns resembling stone, brick, or tile can be imprinted onto your concrete using patterned stamps. Using different methods, many other types of patterns can also be created to suit any design you may have.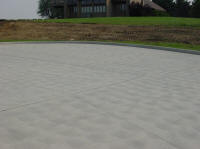 Float Finish
Mainly used in parking lots or sidewalks, this finish leaves a swirl design on the concrete increasing traction and looks. This finish provides an excellent slip resistant textured effect. It looks great when finished and takes years to master.
Broom Finish
Created by sweeping a broom across the concrete, this finish is mainly used for sidewalks and patios/exterior pads to increase traction.